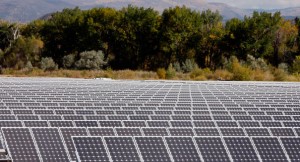 New Report: 3rd Quarter U.S. Solar Energy Growth Highlighted by PV, Record Residential Installs
The third quarter 2012 was the third largest on record for the U.S. solar industry and raised the total installed capacity through the first three quarters of the year to 1,992 megawatts (MW)- already surpassing 2011's annual total of 1,885 MW. There were 684 MW of photovoltaic (PV) capacity installed in Q3 2012, representing a 44 percent increase in deployment over the third quarter of 2011. SEIA forecasts that close to 1,300 MW of PV capacity will be installed in the fourth quarter of 2012 alone, bringing the total for the year to 3,200 MW.
That 4th quarter installation is the equivalent of a nuclear power plant!