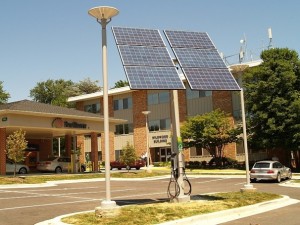 2013 Marks Record Year for Solar Power in US
PV solar installations soar 40 percent in 3rd quarter
A new report shows that 2013 was another banner, record-setting year for solar energy in the U.S., with 4,751 megawatts (MW) of new photovoltaic (PV) capacity installed—a year-over-year increase of 41 percent—with another 410 MW of concentrating solar power (CSP) coming online. A record 2,106 MW of solar power capacity was installed in the fourth quarter alone, amounting to 44 percent of the annual total. That bests the old quarterly record by 60 percent.
ADVERTISEMENT
As of year-end, there were more than 445,000 solar electric systems generating clean, renewable electrical power in the U.S. That amounts to more than 12,000 MW of PV and 918 MW of CSP capacity—enough for some 2.2 million average U.S. homes, according to the GTM Research-Solar Energy Industry Association's (SEIA) "Solar Market Insight Year in Review 2013."
Solar accounted for 29 percent of all new electricity generation capacity added in 2013, second only to natural gas, which accounted for 46 percent. In the aggregate, 2013 statistics indicate that solar energy is on the cusp of going mainstream in the U.S., if it isn't already there. A geographic breakdown of solar installations shows that this is indeed the case, but only in a few U.S. states.
California alone accounted for more than half of American PV installations in 2013, adding more solar capacity last year than was installed nationwide in 2011. The top five states for solar energy installations in 2013, California, Arizona, North Carolina (a surprising third!), Massachusetts and New Jersey, accounted for 81 percent.