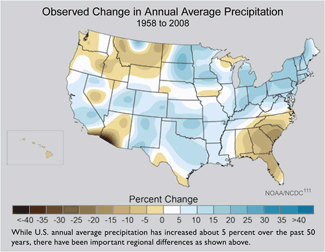 Changes in annual average precipitation in the United States between 1958 and 2008. The Southwest is seeing some of the biggest changes — especially in Arizona, which is becoming much drier in the southern part of the state. Map courtesy of U.S. Global Climate Research Program.
At a conference of the Quivira Coalition in Santa Fe, NM, a gathering of farmers discussed these issues.
What a year it's been, huh?" deBuys asked the crowd during his opening remarks. "There was the Wallow fire, Las Conchas fire, a good portion of Texas burned up, record temperatures in Phoenix … more days over 100 degrees by a substantial margin. Where does this leave us?"
McKibben added that "what's going on in the Southwest shouldn't be a surprise," given climate trends over the past few decades.
Those changes are making dry areas drier and wet areas wetter, he added, noting that other regions of the country are experiencing their own extremes, such as "much heavier" precipitation in the Northeast.
"Just as Texas is setting new records for drought, we're breaking rainfall records in the Northeast," said McKibben, who lives on a dairy farm in Vermont. "These are the kinds of rain events that you do not want if you're a farmer."
I will be sure to discuss these dryness issues with folks when I travel thru the South and Southwest on FunRun2012, starting in June 2012.