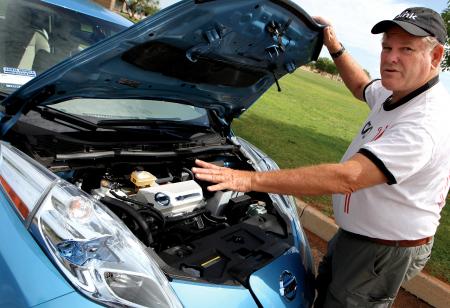 Some thoughts on those who have made a difference.
Jerry Asher – Sergeant Major, US Army, retired. Full time Electric Vehicle (EV) activist/promoter. Jerry has given gobs of his time to the EV cause, but this last year 2008-09, Jerry and his team, including me, have staged the Plug in Hybrid Electric Vehicle (PHEV) All Across America(3A), see www.phev3A.com, educational tour, educating people about PHEVs one town at a time. Jerry also has a ready joke, which makes his a great wing-man for the FunRun.
Jo Reyes. Ace mechanic and the major builder of the BugE electric motorcycle. Jo is also co-owner, with Charlie, of the Green Commuter bicycle shop where we sell and service electric bicycles and regular bicycles, e-scooters, one e-motorcycle and an occasional electric car. Jo is a former Ferrari race car mechanic and can fix most anything. His wife, Kim, is also co-owner of TheGreenCommuter.net
Chip Gribben is our ace webmaster and racemaster of the drag and autocross EV races that he calls ThePowerofDC.com.
Dave Goldstein, President Emeritus of the EVADC, the Electric Vehicle Association of Greater DC, www.evadc.org on the web. Dave founded EVADC and has slaved away on our batteries, soldering, etc.
Louis Palmer, from Switzerland, is the inspiration for long distance, solar EV journeys. Louis went aroudn the world in his two seater, called www.solartaxi.com.
President Theodore Roosevelt who said ""there is no greater prize in life than doing a job worth doing."